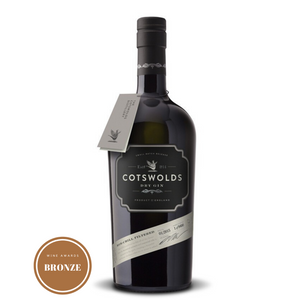 Cotswolds Dry Gin 
is a delectable blend of nine carefully-considered botanicals, including local lavender from nearby Snowshill and freshly-peeled pink grapefruit and lime zest.  Due to the unusually high volume of botanicals used, the gin causes a beautiful pearlescent cloud to appear when ice or tonic is added.
This gin has delicate pine juniper spice and fresh citrusy grapefruit, with a touch of dryness from the angelica root and eucalyptus notes from bay leaf. Well balanced on the finish with juniper, citrus and cardamom.
ALC (%): 46.0
Cocktail: Classic G&T, Martini, Bramble, Velvet Alexander, Honeybee Harvest, White Lady, Lavender Fields, Franchino's negroni, Elderflower Martini, Eastern Standard and many more.
Volume available: 700 ml